Uncle Rubus' Magickal Herbology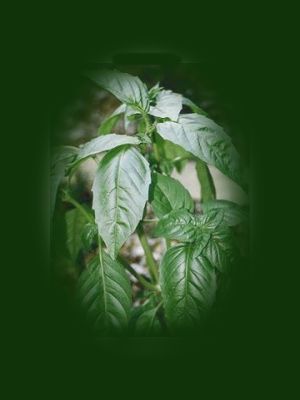 Basil
Basil is easy to start from seed and has a rich spicy taste with a hint of clove and pepper. It is a plant in the mint family and is said to aid in digestive problems. It's a staple of Italian cooking and is great with meats, eggs and cheese. There are several varieties of basil; Purple-ruffled leaf basil looks great in the flower bed!
Magical Uses
In ancient times, basil was associated with dragons, salamanders and the basilisk monster. Basil is associated with the element fire. Flo and I used this herb to call forth the dragon Prometheus.
Basilisk Monster
Since basil is associated with dragons and basilisks, a person needing courage should use basil. The herb allows the user to have courage and to be brave no matter how dangerous the path is. Basil is used for everyday dangers and dangers in the spiritual realm.

Sometimes basil is called the witches herb because it is used to protect against evil and harm. In olden days, witches were said to drink basil tea and with the correct spell the basil could allow them to fly.

Basil sprinkled on the floor of your room keeps the room free of evil.

Giving basil to a friend who has moved into a new home will bring them good luck.

Modern witches use basil in rituals initiating new members into a group. A new member should bathe with basil and drink basil tea to purify oneself before taking the sacraments of entering into a group. The new member can also wear a sprig of basil or basil can be burned as an incense.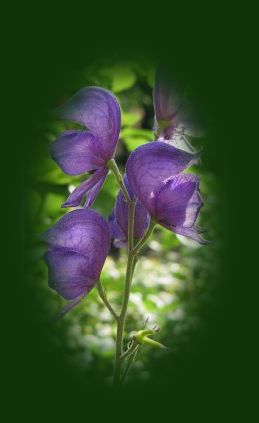 Aconite (Wolfsbane)
Wolfsbane is one of nature's most poisonous plants. Care should be used when handling it and transplanting it. It should not be used as an herbal medicine or magicakal herb.

The flower buds of my Wolfsbane are just now beginning to open (October 23-Zone 5 south central Ohio). It blooms in late summer to mid-Autumn. At times, it has even been blooming at the end of October. Wolfsbane is a beautiful plant with finely cut leaves and grows up to 3 feet high. Mine are a medium blue, but I have seen them in white, yellow and bi-color (white and blue flowers). They like a moist soil and semi-shade and resent being transplanted once established. From my experience, Wolfsbane takes a good year after planted to do well in the garden. Here in Ohio, there are a couple varieties of wild Aconite found in moist woods. When we were hunting for Aconite seeds in the Seven Sacred Seeds, we found wild Aconite seeds on an Island in the Big Lake. Some people consider this plant too dangerous to grow in their gardens. If you have pets or small children you fear might ingest this plant, then perhaps it's not wise to grow it.
Magickal Uses of Wolfsbane (Aconite)
Historically, Wolfsbane has been used to help cure werewolves It was also used to keep werewolves and vampires from attacking you! The seed carried in lizard skins allowed the holder to become invisible at will. Wolfsbane is an ingredient in witch flying ointments.

In older witch traditions, Wolfsbane is used in a variety of ways to cleanse ritual tools and in ceremonial spaces and to protect the rituals from negative energies. In some traditions, Wolfsbane is an herb used in funeral rites and planted over the grave. Wolfsbane (Aconite) is a beautiful Autumn flower that is very poisonous and should be left to grow in the garden!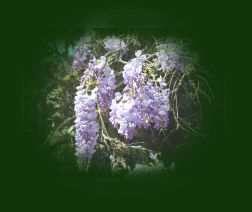 Wisteria
I love wisteria! Growing up as a kid we had a wisteria vine at the end of our big front porch and in the Spring it would be covered with masses of huge sweet blooms! Wisteria vines are known to grow rampant. A wisteria vine can grow 30-40 feet or more and tear down downspouts and pull down anything that is not very secure. I have a wisteria growing on my arbor, but I don't like the way it grows out of control. Flo gets upset when the vine makes its way into her garden. Sometimes wisteria are trained as a standard to be free-standing, almost tree-like and they are spectacular in full bloom! There are less aggressive and smaller wisterias available.

Wisteria Amethyst Falls is a smaller growing vine and has cute little 4-5 inches clusters of blooms.

IT IS ALWAYS best to buy a wisteria in bloom! Many times it may take a wisteria 10 years to bloom or it may never bloom. Vines grown from seed can take years to bloom. It is best to buy a plant that has been grafted off a blooming vine and is in bloom when you buy it. The Amethyst Falls is in bloom in the pot, so I know it's a vine that will bloom.

Magickally, wisteria oil is placed on one's temples when studying and reading to give mental clarity and help you retain the information you are learning. Wisteria tea is taken to help you learn while you are studying for exams. Flo often brews wisteria tea for Darach when he is studying magicakal herbology to help him retain the information.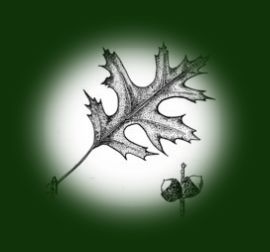 Oaks & Acorns
As a kid I carried acorns with their little caps, along with Buckeyes, as powerful good-luck charms. Oaks are a strong wood and their leaves turn a brilliant red in the Autumn. Oaks are unusual; they keep their leaves attached to the tree until Spring when the new leaves emerge. Oaks are very slow-growing trees and can live for hundreds of years.

To the ancient Druids the oaks and acorns were very sacred. The oak is the most royal of all trees and performing magickal rites in an oak grove intensifies the magic.

My nephew Darach's name means strong as an oak. Due to his courage he has saved my skin from time to time.

Oak is a symbol for endurance and triumph.

Oak is a symbol for fertility.

Oak/acorns protects us from the elements and from the dangers of life.

In some witch traditions oak leaves, bark, branches and twigs are used in healing spells and rituals. An acorn planted in the dark of the moon attracts riches. Oaks make an excellent all-purpose wand.

I have only scratched the surface discussing the strong magick associated with oaks/acorns. I encourage all of you to study the history and magickal uses of the mighty Oak!!!!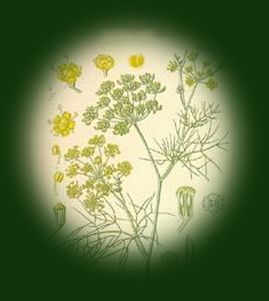 Fennel
SEVERAL years ago I bought a small pot of bronze fennel and placed it in my perennial garden. I liked the purplish color of the fine leaves and the wonderful licorice smell when you rubbed up against it. And if that wasn't enough, fennel produces a nice sulfur-yellow bloom in midsummer. Fennel is often used in cooking.

Years ago the plant escaped my perennial bed and now comes up every year along my front fence...it reseeds itself everywhere! Every spring I plucking out little baby fennel plants!

Fennel does well in full sun and average soil. Once established, it can take hot dry weather and conditions.
Magickal Uses of Fennel
The Greek God Prometheus (from which Prometheus the Dragon took his name) went to Mt. Olympus and stole fire from Zeus and hid the fire in a giant fennel stalk and brought it down and gave fire to humankind. Later Zeus got very angry at Prometheus for sharing knowledge with humanity and punished him.

Fennel is a magical herb of protection. It protects us from external negativity.

Used in cooking, it can bring protection to your dinner guests. Traditionally fennel is gathered on midsummer's eve and hung in the home for protection. Fennel hung above doors and windows protects your home from evil spirits, sorcerers, and from evil spirits from entering into the house. Fennel seeds placed in keyholes keeps ghosts from coming into the building. Darach used fennel when evil ghosts chased us up into the church and he kept them out by placing fennel in the key hole of the bell tower door.

Fennel is associated with and represents the element fire.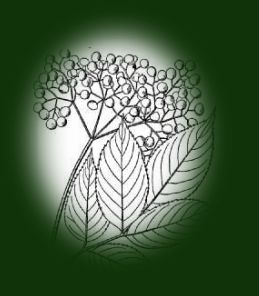 Elder
The elderberry shrub is a powerful herb used for protection. Every witch's garden should have some sort of elder bush. There are various very ornamental elderberry shrubs available. I have a beautiful variegated elder and a dark-purple-leaf variety that sports pink lemon-smelling flowers. Elderberries grow in good garden soil and can take a little shade. The berries are great food for the song birds. Elder has been called "Queen" or "Mother" of all the herbs. Among witches and elves the plants are considered sacred and holy. An elder planted in the garden protects all the inhabitants of the home and protects all animals in the garden/yard.

In the past, it was felt witches and good spirits lived in the elderberry shrub. The herb protects against all evil, bad spells, robbers, negativity and lightning. During the growing season I like to carry fresh elder leaves in my leather pouch. If you take a branch or a leaf from this sacred plant you should ask her three times for forgiveness and thank her for the protection of her leaves. Elder is so powerful and sacred that it's wood should never be burned.

Elf friends of Darach's suffered a terrible fate because they burned the wood of the rare white-berry elder bush.

The history and magickal abilities of this plant are too great for me to list here. Be a good student and grab those magical herbology books and start reading!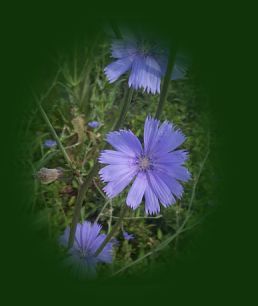 Chicory
I saw my first Chicory blooming today... I know to many non-witches this plant is considered a weed, but I still love it for it's powerful magic and bright blue flowers!

Chicory is a wild flower that grows along roads and in fields and empty lots. It is not native to Ohio; originally I believe it was from Europe. Chicory is in the same family as endive--some eat the young leaves in salads. During WWII when the import of coffee was cut off to the US, people drank a non-caffeine coffee substitute from Chicory roots.

Chicory has a true blue flower--many flowers of plants are called blue, but are really shades of purple. Each flower lasts only one day, but the plant blooms for several weeks during the summer.
Magickal Uses of chicory
Chicory is carried to magically remove all obstacles you run into during the day.

Chicory has more powerful magic if it is cut with a gold knife in total silence at noon or midnight on Midsummer. (Longest day of the year-this year June 21st.) If you are able to cut the chicory according to the guidelines above, the plant held against any lock will magically open all boxes and doors. Flo is always locking her keys in the car and when she tries to use chicory she usually unlocks and sets off alarms on any car nearby! She needs a little more practice using this magical herb!

Anointing your body with chicory juice (and knowing the correct magical words) will give you the powers of invisibility and allow you to gain special favors from important people.

Chicory is also used to promote healing and give a more positive outlook on life.

Also using chicory will magically improve your sense of humor!